OR
Mail in your donation
CROSS Food Shelf
PO Box 574
Rogers, MN 55374
DONATE PRODUCTS
Drop off your donation
12915 Weinand Circle
Rogers, MN 55374
Monday: 9:00 AM – 11:30 AM
Tuesday: closed
Wednesday: 9:00 AM – 7:30 PM
Closed between 11:30 AM – 12:30 PM
Thursday: 2:00 PM – 7:30 PM
Friday: 9:00 AM – 1 PM
Please call (763) 425-1050 if you have a concern regarding your donation or have a larger food
donation you need picked up.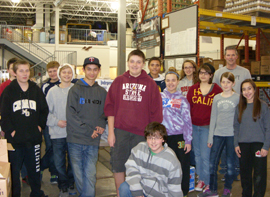 Food Shelf Volunteers
CROSS accepts:
Food items – perishable and non-perishable
Clothing and Household items – clean, gently used, smaller than a microwave
School supplies (new)
Toys (new)
Gift wrap and party supplies
Easter basket supplies
CROSS does not accept:
Medicine – over the counter or prescription
Furniture
Computer monitors, televisions, or other electronics
VOLUNTEER TIME
Call 763-425-1050 to schedule a 20-minute tour
(tour schedule: Mondays – 2:00 PM; Wednesdays – 6:00 PM; Fridays – 10:00 AM)
Complete the application
Current Volunteer Needs
Farmers market booth (Wednesday and Thursday evenings)
Meals on Wheels drivers (Mondays – Fridays, 11:00 AM – 12:20 PM)
Afternoon volunteers
Thank you volunteers!
504 Volunteers gave CROSS 27,188 hours of their time in 2012.
CROSS is a 501c3 Minnesota charitable nonprofit. Your donations are tax-deductible.
Tax Identification Number: 41-1314577