We provide the following services:
Food shelf – Families choose food best suited to their needs in a grocery store type setting. CROSS provides fresh produce, bread, frozen and shelf stable foods (10-15 days of food per month; average 28 pounds per person).
Please bring a current piece of dated mail within the last 30 days with your name and address.
Clothing and Household Supplies – The clothing program is a shopping model in which families choose items best suited to their needs at prices low enough to be very affordable ($.50 per pound), Free vouchers are available through case worker staff.
Please note CROSS does not accept donations electronics or furniture.
Holidays and Special Occasions – Easter baskets, Christmas Toys for Tots, school supplies, birthday gifts, and kids snack packs.
Meals on Wheels – For a small fee, hot meals are delivered to participants homes Monday – Friday.
Peace of Mind Housing Fund – For many years, CROSS has provided financial assistance to families to stay in their home or to secure stable housing. In 2013, CROSS renamed its housing assistance program, Peace of Mind Housing, as the support it offers to local families brings peace of mind regarding housing concerns during times of crisis.
KidPack-Weekend Food for Kids -Provides weekend food and hygiene packs for local students along with healthy snack bars for hungry students before lunch.
Onsite Partners
Hennepin County Staff
Jesus Heals Wellness Clinic
Other Partners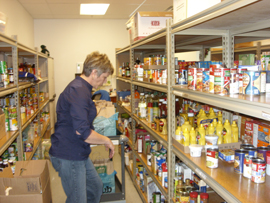 Food Shelf
Clothes and Household Supplies