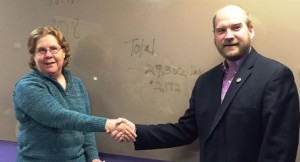 After several months of a "competition" between the Maple Grove Rotary Club and Rogers Rotary Club to collect donations for CROSS Services, club members met at CROSS for a final weigh-in Feb. 3.
The combined effort brought nearly 30,000 pounds of food and almost $2,000 in donations to help families and individuals in need living in Rogers, Maple Grove, Osseo, Champlin (West), Corcoran, and Dayton. CROSS provides services such as a food shelf, Peace of Mind Housing financial assistance, Meals on Wheels, and more to local families.
Pictured: Maple Grove Rotary Club President Judy Johnson and Rogers Rotary Club President Eric Hermanson, along with club members, met at CROSS Feb. 3 to conclude their club challenge to collect food and monetary donations for CROSS.